DiscGolf+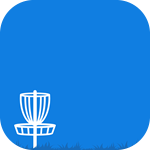 When all you need is a fast, streamlined and easy to use scorecard for frisbee golf, DiscGolf+ has you covered.
Enter your players, choose a course, and start throwing. Swipe from one hole to the next, tap to add strokes for each player and move on to the next. Don't get bogged down with loads of unnecessary and cluttered data when all you really need is a way to quickly, easily and accurately keep your score count.
Features an overall leader indicated at the top of each page, with individual hole leaders with the lowest par for each particular hole.
DiscGolf+. The fastest and easiest to use frisbee golf score card.